I need to write this before I really forget about it. Before I start, let me tell you some background. Let me start with this: Once upon a time in a far away land…… Hahaha, just kidding.
I knew Kuan Kong and Ang Ku from Penang Hokkien. I think I no need to introduce Ang Ku anymore, since he is very famous now. Let me introduce Kuan Kong to you all, in case you don't know who is he. Kuan Kong is one of the early member in Penang Hokkien. He joined many of the show in the early stage. But later, he was busy in his study and left PGHK for quite some time. Remeber his famous quote? Do you know why his name is Kuang kong? If you don't know, go find it out from Penang Hokkien Podcast. 🙂
He was back to Malaysia and in Singapore for the time being. I message him in MSN one day and knew that he was in Singapore. Coincidentally, I'm going to Singapore when he was there. Since I cannot meet him in Malaysia, I plan to meet him in Singapore. Kuan Kong agreed. Of cause, the gathering is with Ang Ku as well.
I waited them for around 30 minutes in Jurong Entertainment Center. I only can call Ang Ku but not Kuan Kong. He doesn't have phone there. Luckily, he turned up at last. Ang Ku reached later. We were hungry and we went for the food court and got some food. We have chicken rice, vegetables and wantan soup. The chicken rice was so so, not that good. The vegetables were bad! There were in sweet soy sauce! My god, can you imagine vegetables dip in sweet sauce? Terrible! The wantan soup was ok.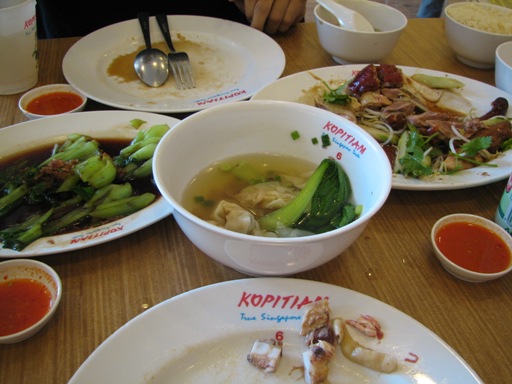 Is this looked familiar? YES, Tox used it before and put his head on it. Remember? HAHA.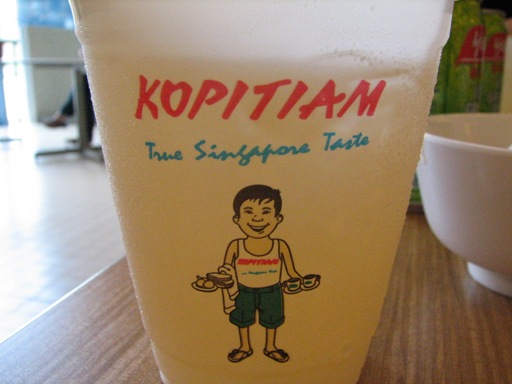 After lunch, we went to China Town. Kuan Kong suggested to go visit the temple. For the temple posts and photos, please go to Temple Exhibition Photograph and Buddha Tooth Relics Temple.
After the temple visit, we went to Cineleisure in Orchard for Karaoke.
To be continue…… Kuan Kong's photos coming up next!
(Hey, Kuan Kong, you must pay me advertisment fee for promoting and introducing you here!)