I met up with my friend BT on Sunday, 9 Dec at Woodlands Causeway Point (Yes, I'm back on the Singapore Trip, Hehehe). It's raining on that day, I still remember. BT was already there waiting for me.
I was hungry at that time and so BT. We straight away went to search for the food. We cannot make the decision and at last we went into this shop, Yoshinoya. It's japanese food. They have few kind of set lunch. I ordered the salmon set and BT ordered beef set.
This is not the Yoshinoya that we have our lunch. This is another branch located at Marina Square.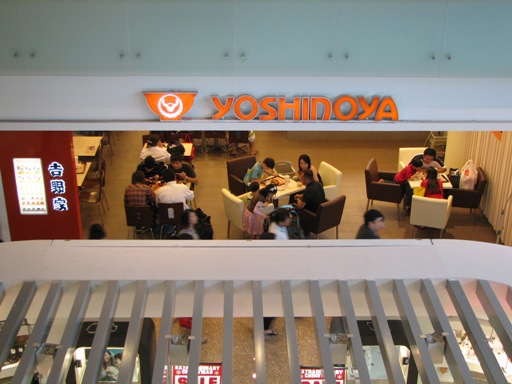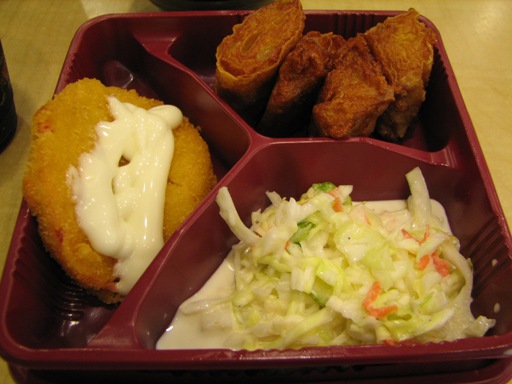 Do you notice it has 2 layers of tray? You know why?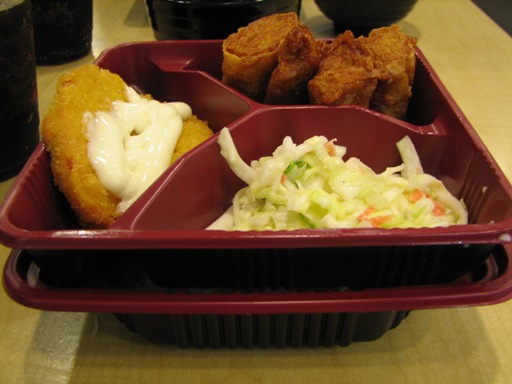 Here's why. The rice is at the bottom tray.

The food was too salty!! I'm not a person who will eat too salty food. So, you can know what I will comment. The food was not really special, you can actually find it from any of the japanese stall. It's just a piece of salmon, salad, and fried food (I'm not sure what is that. It's some sort like "chim zhor". I don't know how to say it in English. Anyway, you can see from the photo.). Not really recommended, unless you want to try it out. No next time for me.
Later, we went to quite a lot of places, including Bugis Junction, China Town, Suntec and Marina Square. Remember the Earthquake? Yes, I have my 2nd Earthquake on that day in Suntec. 🙂 We walked the whole afternoon, walked until my leg pain. For the dinner, we have it in Burger King.
It's nice for me to meet up BT in Singapore. Hopefully he will get his broadband soon. Then we can chat and he can read my blog! Hahahaha. 😀